G
oogle always padlock us with more productive apps and also variety of information to every users and customers with lots of functions like Google apps in Chrome and apps for android as well . Now google wanting every gmail users to try their new add-on features for multi functional vitalities . Google add-ons , as the name implies these add-ons does the task of additional functions than just emailing . we might have heard of extensions for google chrome browsers so far.
Now, every gmail users could able to do some additional functions more than emailing . Could not get any idea , what i'm talking of ? . Well , if you have already used plugins like Boomerang , pause for gmail , you might got some idea of what i'm referring here to. Google is a tech giant always wanting to try new stuffs to customers and users to use its applications and also features more effectively . Now , recently google has announced about super charging facility in gmail via. add-ons. If you are an existing user of gmail , you can easily enable this feature via by just few selections and clicks away.
How to activate add-ons in our emails ?
If you are new user / existing gmail user , just sign in your gmail account and once signed in , you could able to see gear symbol at the top right corner of your gmail like the one below
As you could able to see what i stated above , if you click the gear button symbol it will list out the drop down box with Get add-ons option like above. Once you click that option from the drop down menu box , the dialog box will pop up like the one below
You could able to see the box like the one i am seeing now and at the top of this box in the left corner , you could able to see three horizontal dashes , if you click that it will list out add ons under categories wise like the one below
Now you could able to view the lists on the left side column , if you click any category it will list out menus or you can select out the add - ons available at the right column. Here , i have clicked utlities -chosen one add on " dial pad " for instance . It will be looking like the one below
Once you click that particular add on , it will be poping up for installation , once you click install button like the one below
Once you click the
continue
button , it will ask for permission to allow the add-ons to run in your gmail account . Here you can either click
allow
or
deny
based on your wants. If you clicked allow , then it will be prompting the user to finish up the final procedure by clicking
done
. Once you click that , it will be added as extension on the right side column of gmail account
As you can see from the above snapshot , the add-on extension is added on the right side of the gmail account and you just need to
begin authorization by opening a new account using gmail or office 365 or create new account in that add-on to grant access like one below
As you can see above that once its authorized successfully , you could able to perform add on tasks at the right side column easily and likewise , you can perform certain actions based on the add-ons you installed. Not only for gmail but also for
g-suite its available. T
here are so many add-ons like Ring central , smart street , streak , dialpad , Docusign , Hire , Prosperworks available for G-suite for gmail for workplace. For more detailed info. about those , please visit the official
Google blog
. You can do much more with the add-ons based on its tasks and functionalities , but right now the add-ons for gmail/g-suite seems to pretty limited and the google team is working on more extensions to make the gmail better and put their email service into more productive and competitive use. For better video understanding , please visit them below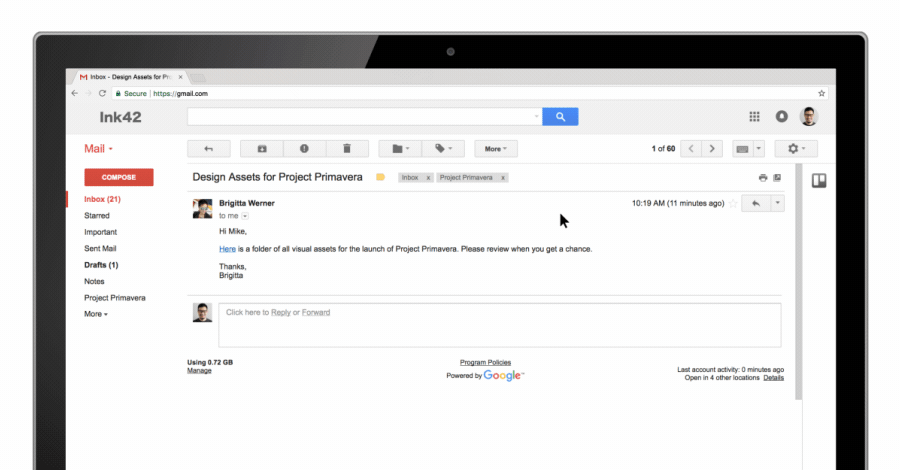 (Source : Google blog )