We all know Amazon is a well known e-commerce site , where we can buy any items like watches/electronics/books / mobile phones / utilities and so on.. As we find lazy to goto shop and buy, we always search on net and buy and pay via online and makes our life so instantly easy. No need to hurdle at all. We know of Amazon and also its cloud services Aws offering free 5gb limitations per user account and all. Right now Amazon is in the verge to make any innovative product to hit consumer market directly as themselves with the new product initiatives
We might have heard of Alexa , Echo from Amazon recently.. What was that all of ? . Amazon's Alexa ( an intelligent personal assistant developed by Amazon for their hardware devices to listen and obey assistant and do it accordingly to the voice search enabled AI ) It is a cloud based voice service enabled assistant that could be used to store our voice and command over alexa enabled echo devices anywhere on home . The pretty interesting factor is it has API that could be best used with any automated products to command over. You can register your voice with the help of api in these devices like Echo, Echo Plus , Echo spot and Amazon pit.
What you will be benefited from Alexa ?
First and foremost thing in Alexa is capable enough to enable countless voice first experiences like smart home integration services like smart light controls , thermostats , cameras and entertainment devices
You can build game building skills via voice recognition and train it and is also capable enough to play the interactive adventure games very easily
You can use the alexa enabled devices to your customers via, recording flash messages and deliver to any time whenever you want
You can order a pizza , burger , book a cab via uber , ola and also you can order for reservation
You can do video skills for specific needs for any customer
You can also enable video streaming , visualization and also allows the customers to view and operate smart camera devices
You can also check your design and correct it and rebuild it and make sure you design properly before you assign the sound to it
You can build , design , test and also integrate voice service with amazon cloud service and you can build most of free service kills with Amazon Lambda
Time consumption is less and we just need our voice to enable it to do the rest of the works , this is the future
( Indication of Alexa Voice Service is integrated with new notification support facility )
The above gif just represents the notifications of any core updates , shopping updates or there is any reservation it will indicate the content via LED to alert users of it which seems pretty cool.
How Alexa could be operated with Echo and Amazon tap devices ?
Amazon built a system that could be easily operated to interact with the screen. Alexa could be accessed or sensed via. microphones built with both echo and dot . Once you command over alexa, that echo or amazon tap products which has been integrated with Alexa via voice recognition pattern will stream the voice to their cloud service and when you asked to do something , the requests been listened and all those requests will be displayed in the app and the default wake up word is wake alexa and you can change to any name later on. Once you speak over , the command will be assigned to it via. microphone and will be transmitted to amazon's cloud computers for quick analysis. The default voice will be female and the requests making to alexa are very easier.
Just say " What is the temperature in our city ? " or uou can ask alexa to perform a music search or you can ask alexa to turn off the limits or dim it and place a reservation and you can also request for a joke which is very interesting
Setting up the product is very easy. Just plugin the device ad enable voice assistant and connect with the app which is avail for android and IOS and ask for whatever u want to do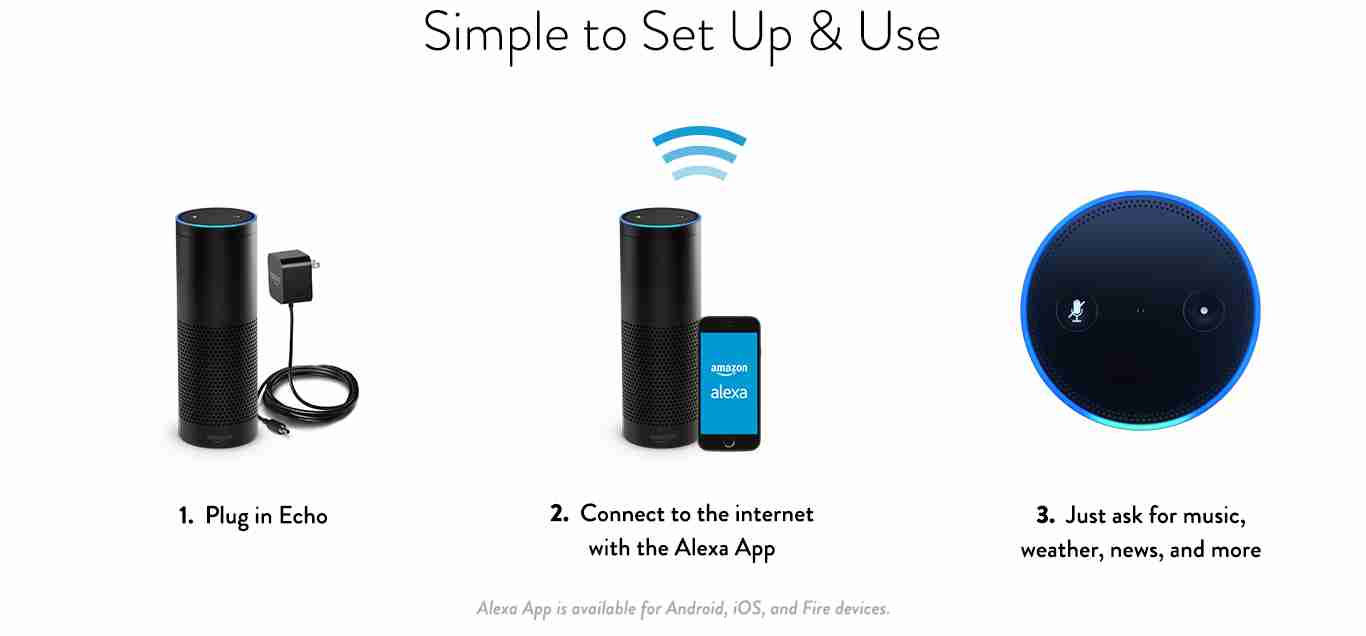 As you can see Alexa has its many vantages , it also has its disadvantage is only one command can be received at one time not unless you build a command together like " light and bedroom " . Each command has to be spoken seperately and few other limitations which are notable to its backlogs. Apart from that , its still a pretty decent product from amazon
You need an app which has alexa enabled in it with hardware devices available as i stated above. For more info, please visit
https://developer.amazon.com/alexa
and for devices , please visit
amazon
and to download alexa app from
Google Playstore
and for IOS devices , please
click here
. For better understanding , please follow the video below